Dependable Will & Trust Attorneys in Livonia, MI
---
Having a will and trust is paramount in providing assurance that your dear ones will be cared for and supported once you're no longer around. At Creighton, McLean & Shea, PLC, we stand ready to assist you in navigating all aspects of estate planning with a comprehensive grasp of the subject and a personalized approach. We understand that crafting a will or trust might seem overwhelming, but our team of attorneys is dedicated to meticulously considering every aspect, making sure you are at ease with the established plans. Your peace of mind is our priority.
Will & Trust Planning Services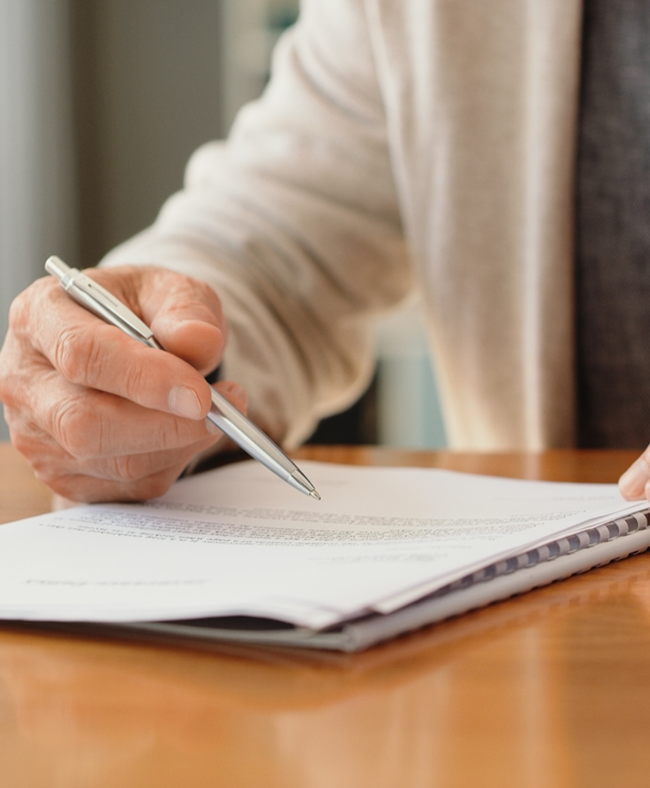 Will and trust planning services are an important step in preparing for your future and the care of your loved ones. It's never too early to consider estate planning, and there are a number of ways to go about achieving your end-of-life goals. We recommend that at the very least, every adult should have a will and health care directive set in place, no matter their age or stage in life. At Creighton, McLean & Shea, PLC, we take time and effort to fully understand your needs and goals, and we work with you to develop a unique plan that fully accommodates them.
Rather than leave your legacy in the hands of an online estate planning service, choose a legal professional that will provide a tailor-made solution. We know the questions to ask, the details to consider, and the Michigan-specific requirements necessary to produce will and trust documents you can depend on. Plus, we can also handle when the time comes.
Will & Trust FAQs
What Is a Healthcare Directive?
An advance healthcare directive is a legal document that establishes your wishes about your healthcare if you are unable to make those decisions yourself. It can cover many different aspects of care, and it is smart to have one prepared so that your exact wishes can be carried out in case of an emergency. Call our office for a consultation with one of our estate planning lawyers to learn more.
What Is the Difference Between a Will and a Trust?
A will is a legal document that details how you want your assets to be distributed and your affairs to be handled upon your death. A trust is a legal arrangement where you designate a trustee to obtain and manage your assets, and this process can become effective during your lifetime or after your death. There are many types of trust—your attorney can help you determine the right type of document for your individual goals and financial situation.
What are Living Wills?
In Michigan, a living will isn't considered a legally enforceable Advance Directive. Nonetheless, it can be utilized alongside a valid Durable Power of Attorney for Health Care (DPOA-HC) to assist the Patient Advocate named in the DPOA-HC in comprehending the patient's treatment preferences.
A living will expresses your preferences concerning life-sustaining medical treatments. Even though it doesn't hold legal weight in Michigan, it sets the foundation for the decisions you've outlined and provides guidance to your loved ones regarding your intentions.
If you're considering creating a will in Michigan, you may wish to take the following steps:
Determine which assets to include in your will.
Decide who will receive your assets.
Select an executor to manage your estate.
Choose a guardian for your minor children.
Appoint someone to oversee the property of your children.
What is a Living Trust?
In Michigan, a Living Trust, also referred to as a Revocable Trust or Revocable Living Trust, is a legally binding document that delineates your preferences regarding the recipients of your property after your passing and who should oversee the management of that property. You establish the Trust, place your assets into it, and manage them yourself while you're alive. Upon your demise, a designated individual takes over the management of the property, adhering strictly to the instructions you've outlined in the Trust.
Diverging from a Will, a Living Trust bypasses the necessity of going through Probate Court. It remains a private document, not requiring court authorization or supervision. Consequently, if you've appropriately funded a Living Trust, your family will be spared the expenses and time associated with the Probate Court procedure in Michigan. Moreover, it serves to mitigate estate taxes and fees, uphold family privacy, avert disinheritance, safeguard essential benefits, ensure beneficiaries' education, and shield children from financial challenges like creditors, divorce, bankruptcy, and substance abuse.
To establish a living trust in Michigan, follow these steps:
Decide whether to create an individual or shared trust.
Determine the assets to include in the trust.
Choose a successor trustee.
Decide on the trust's beneficiaries, defining who will inherit the trust property.
For accurate implementation of your desires, it's essential to seek guidance from a legal professional.
Do I Need a Will or a Trust? Or Both?
If you are married, have children, or have a positive net worth, you certainly need a will. For those with more complex estates and assets, we typically recommend having a trust as well. Your attorney at Creighton, McLean and Shea will take the time to understand the precise details of your financial situation and recommend the best course of action for you.